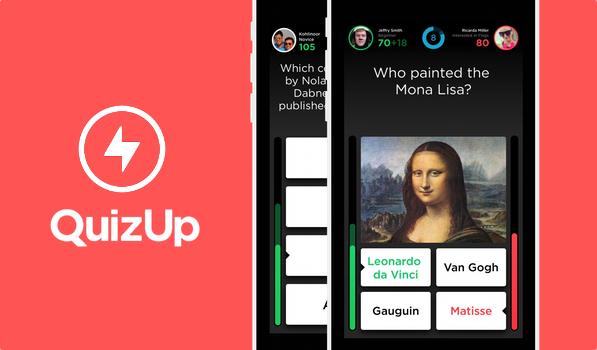 Over Thanksgiving break my 14 year-old niece was busy staring at her I-phone in the corner of the room. Wondering what drew her attention away from her cousins, I asked what she was "doing?"  She introduced me to QuizUp, a hot new app that is engaging children and adults alike.
The app is set up to like any other basic trivia/quiz game. Unlike most limited games, QuizUp has unlimited categories ranging from basic math facts to your favorite television shows. The app allows you to play anyone else who uses the app, or challenge you friends. Your score is based on accuracy and speed, going for 7 rounds. The first 6 rounds are worth 20 points each with the 7th (bonus) round worth 40 points. 160 points earns you a perfect score. Don't hesitate with the correct answer because each second you take to think lowers your score.
Although not everyone likes the app, I feel it is an engaging, competitive way to review knowledge. I love the endless categories and the ability to challenge friends to matches (and rematches when/if you lose). It reminds me of the bar trivia games I enjoyed in my younger days without the expense of going to the bar. The app is still in development for Android devices, currently relying on IOS and Facebook users to play.
I wonder if the creators have though about adding an educational interface where teachers/states can upload questions for students to review knowledge. I feel adding the ability to compete with other classes/schools would be cool. After I explained the app to my advisory class the other day, my students we totally engaged by what it had to offer. The app has so many extras: It graphs the matches, tracks data, and calculates you average speed to answer questions. It seems the developers really like data and tracking it. Think of how this could lead to data discussions with students about their learning! I hope the developers continue to improve this product and make an education version we can better utilize in our schools.
Try the app out I think you will like it!
**Disclosure: I rarely review apps unless I see value in them for my student's learning. I am not compensated for the review.